...up here in the Pacific Northwest. Mother Nature flipped the switch on summer to the exact day....as the first day of autumn greeted us with wind, rain, grey skies and a very distinct chill in the air. Even the shaggy mane mushrooms popped up overnight as a reminder that frosty days will arrive soon.
So, as much as I detest being abandoned by those warm radiant days of summer, there are some elements of the changing seasons that I do enjoy...like fall colors!! And running through piles of colorful leaves like a hyperactive kid on Skittles! And the smell of sweet wood smoke wafting every evening while watching the snow level drop almost daily. You cannot ignore it or hide from it...autumn has arrived!
One autumn event that has turned into a annual event for me is visiting the local family farms in the Skagit River Valley here in Washington State. The smell...and taste of fresh baked apple and pumpkin pies, the tang of exotic local cheese and the tart sting of apple cider made right in front of me more than justify my reasons for visiting here every year. Also, we harvest our pumpkins from these farms ourselves, choosing spectacular colorful varieties for our jack-o-lanterns that I painstakingly carve every year.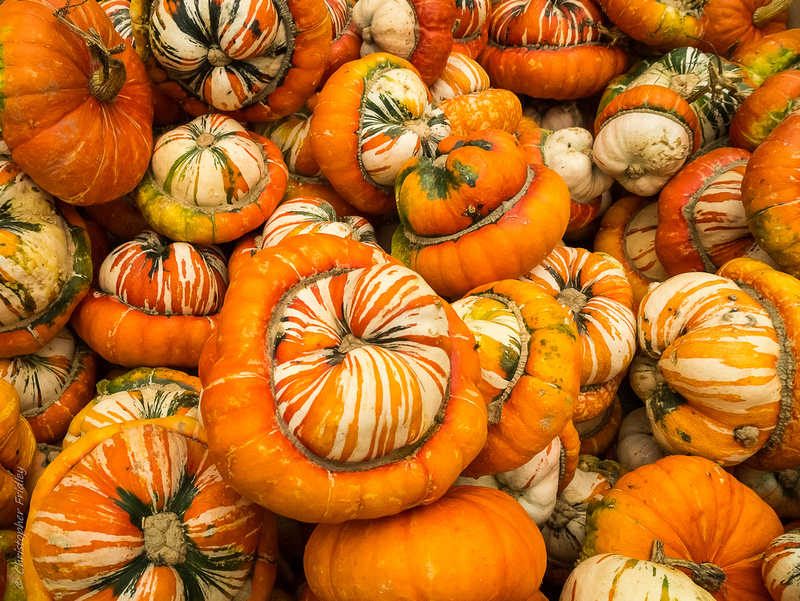 Most places I go, people very frequently chat me up...I must look friendly..or fun..or hopefully both. And since I'm somewhat gifted with wit and wisdom, I love to talk...especially with old people...no, I mean really old people. I can open 'em up like a can of Pringles in no time, and soon, I know more about them than some of their own family.
I like old relics too...check out my "Americana" gallery of my portfolio and see what I mean. So I spotted this old Ford tractor AND two old dusty farmers...one was actually chewing on a long blade of grass, and I could not resist. Within minutes we were yucking it up, slappin' our knees in laughter and talkin' shop. One farmer remembers when this old tractor was brand new and shiny. The other ole boy called it Old Yeller'! Man, this was easy.....
Wish you could smell the fresh baked pumpkin pie!
So, plans are being made to travel South to the Wenatchee River area of Leavenworth, Washington for some real fall color images....man I cannot wait! In the meantime...how about checking out some of my galleries here on the site. You just might see something you would like on your wall. You know, Christmas is coming.....time to drop some hints.....
Since I spend most of my time on Orcas Island, Washington...cause I have a real job there...I thought you would like to see what I see from time to time...maybe you'd like to visit here in the future...although locals here love their privacy and remoteness. This is Eastsound Beach with some fallen leaves...cause it is autumn you know.
Till next time....get outside!
Chris