I know...what the hell is he doing now? Well, during a break of constant windy rainstorms and too many triple espressos, I went out to Fir Island Wildlife Preserve, a coastal fertile flatland where migrating waterfowl are known to rest and feed. Usually you can see the flocks of various birds in the fields near our highways, but they are always far from any access. So, I get there to Fir Island and "Holy crap...they are right there! Right off the edge of the road".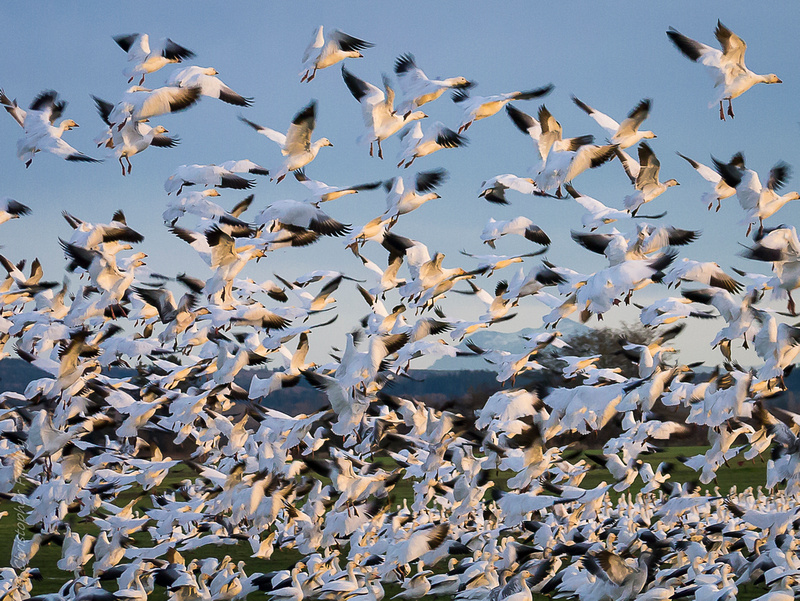 I parked my little Jeep off the road with cars zipping by and start to notice the geese getting closer to the road by the second..."Oh no.."the whole flock was gonna try and cross the road...with cars and big trucks just roaring by... I had to do something quick! I stood up as tall as my short legs could allow and like Moses, I spread out my arms like a scene out of the Bible....I must have looked like an idiot (but you can get away with that here) and the whole flock instantly took off. The sound was incredible...like when the Seahawks make a touchdown loud. Now the cars stopped. They had to...it was awesome...I saw 4 iphones immediately (their cameras take good pictures too...) so it was a big deal! The flock flew around like a swarm of bumblebees for a few minutes while I was soaking it all in.
With a smile on my face for possibly saving thousands of snow geese in a single bound, I wait for the warm hues of sunset before running back for another espresso...
I hope your Holidays are filled with wonder! Check out my Portfolio page for numerous galleries of natures wonders! Till next time...get outside!
Chris